New year's resolutions: usually only empty promises.
But we have an appointment with our bike friends on top of the Mauna Kea in 2018. So we can't put that delicious juicy fresh meatball in our mouth on 6 January. Not even when it's homemade by the butcher around the corner.
No, we have to embrase our resolutions, cherish and caress them. Not for one week, but we started a long-term relationship with her, as if she was the love of our life.
She is our life buoy for this year, our only hold on the way to the infinite. She will guide us to the top of that mountain.
THE MORE CONCRETE YOUR RESOLUTIONS ARE, THE BETTER THEY CAN BE ACHIEVED.
So we asked two members of the group to share them with us. Their first reaction? Restraint that goes along with a young love. But after a slight hesitation, hard figures came out.
Meet Pim (45) and Melle (41) and their commitment to goals and ambitions..
They both fall back on their first FTP test in November,2017. At this 20 minutes during test, the whole group was challenged to find out what their average wattage per kg is.
Melle, for example, kicked an average power of 284 Watts. That is pretty decent, and not surprising for a former bicycle mechanic and mtb instructor. He doesn't teach mtb anymore, but he does go to work every day on his bike. This 25 kilometers per day is quite useful to stay in shape. But he wants more, according to his revealed resolution…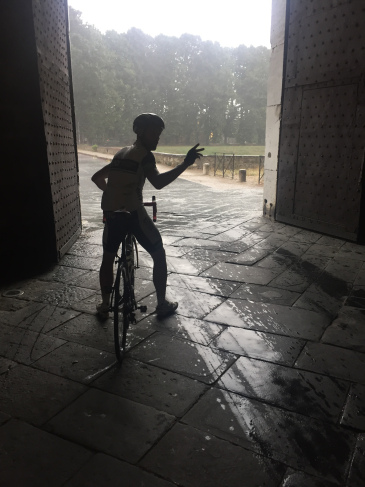 The power that Pim kicked was also pretty impressive, especially for someone whose sporting life was mainly on the tennis court: 286 Watts!
However, the test was taken on a Wattbike on a flat course. When you cycle up you have to divide the wattage with your body weight..
That's the part where those delicious juicy meatballs play an annoying part of the game… Gravity, bodyweight and delicious food don't go along with epic climbs…
And that's what Pim is now aware of. His resolution is to lose at least 10 kilo of bodyweight so he doesn't have to carry up more then 100 kilos on the Mauna Kea.
A big difference with lightweight Melle with his 72 kilos. Losing weight will not help him much to increase his power. His intention to pedal 315 Watts, calls for another approach. Train with a heavier resistance, trips to other strength-sports or go the gym.
EVERY ONE'S OWN ROUTE, BUT EVERYTHING WITH DEDICATION TO MAKE IMPOSSIBLE POSSIBLE TOGETHER.